Location
Conference Venues
Talks
The conference will be held at the University of South Australia's City West campus. We will be based in rooms HH3-08 and HH3-09 of the Sir Hans Heysen Building (Google Maps). The campus map can be seen below or a pdf downloaded here.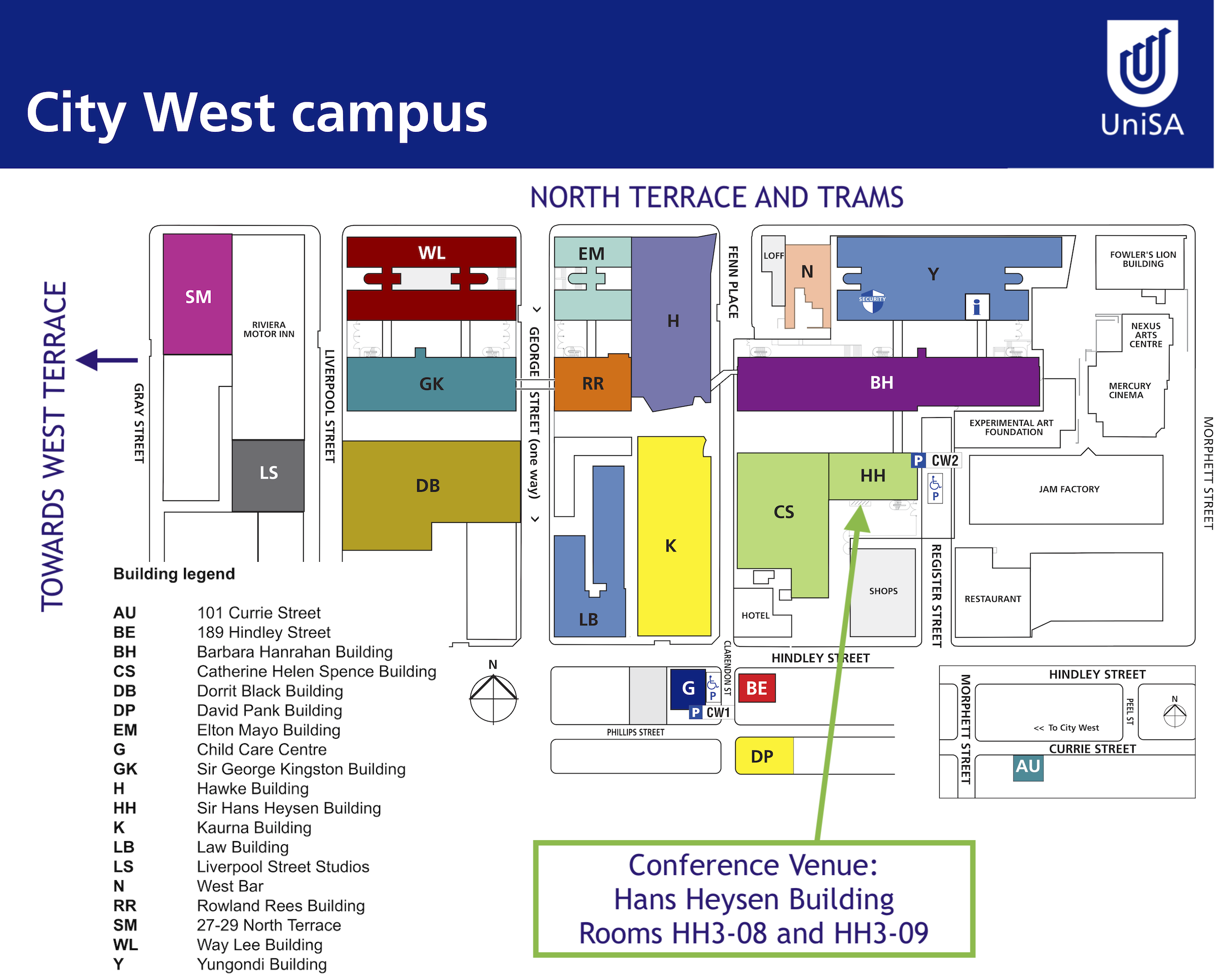 Conference Dinner
The conference dinner will be at the King's Head Pub, on the corner of King William and Sturt St. It is a 20-25 minute walk or you can take a 10 minute tram trip from the City West tram stop to the City South stop to go virtually door to door.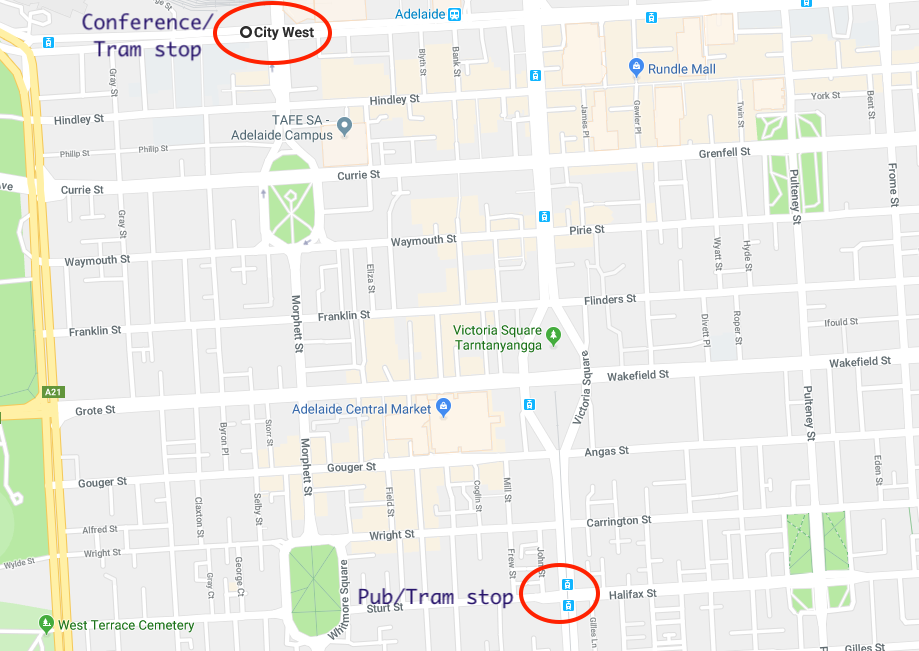 Accommodation & Transport Advice for Students
The following hotels are nearby:
Adelaide Backpackers and Travellers Inn
BreakFree Adelaide
Adelaide Rockford

Airport Information & Public transport
All domestic and international flights arrive and depart from Terminal 1 at Adelaide Airport, located close to the Adelaide CBD. The easiest way to get around Adelaide is to get a metro card. You can buy a metro card from the airport when you arrive in Adelaide at a ticket vending machine. You are also still able to purchase single trip tickets with cash onboard buses, trains, trams. The City West campus is located in the CBD, so whilst there is paid parking available it is easier to catch public transport.
Public Transport, Taxis, and Rideshare from the airport
When you exit the airport, either walk straight across the plaza to the road (if someone is picking you up), or, for all other transport walk across the plaza to the left of the main carpark building - this includes buses, taxis or rideshare services. A map can be seen below or downloaded here.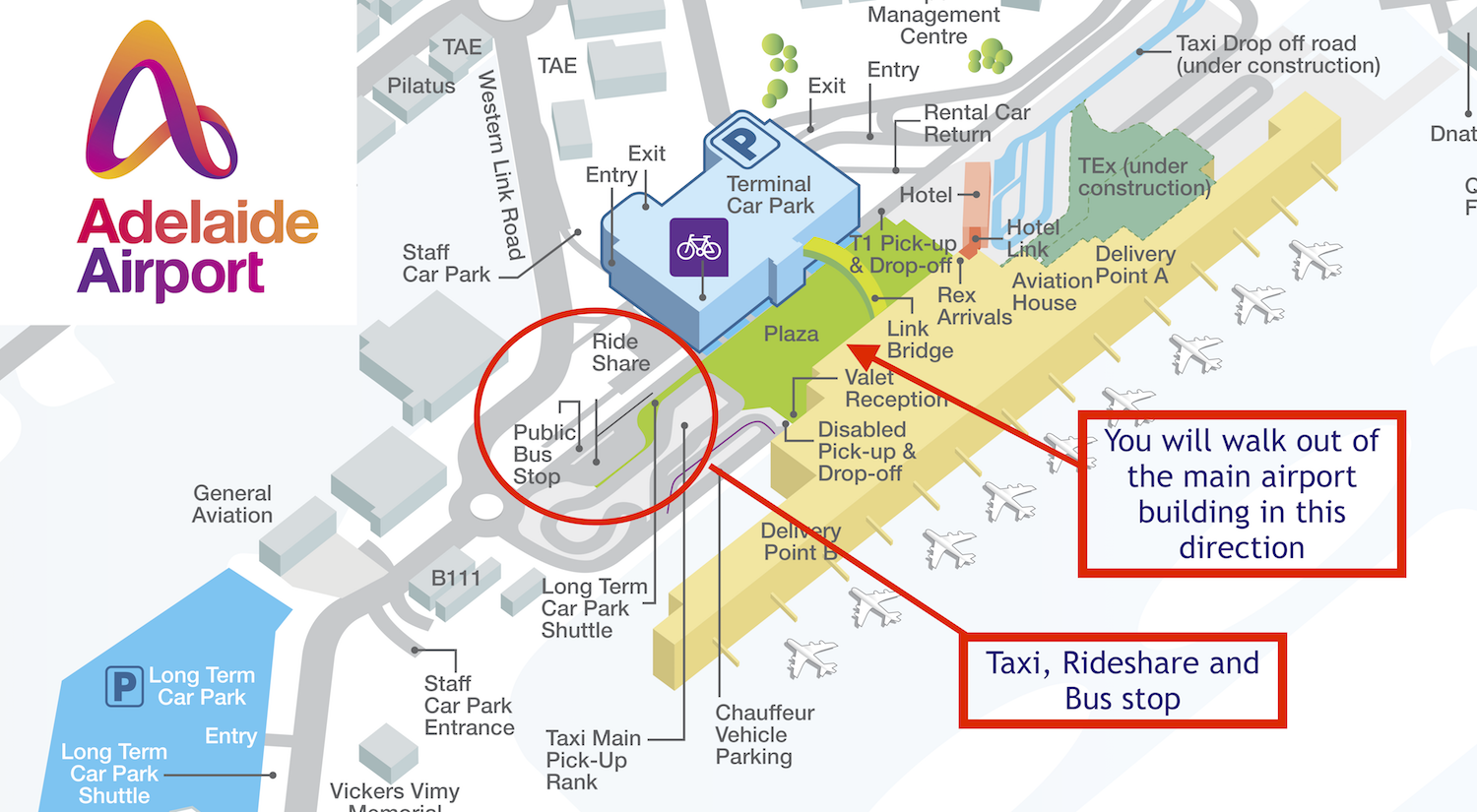 Buses: The JetExpress (J1X) bus travels without intermediate stops in both directions between the Adelaide CBD and Adelaide Airport on weekdays. This bus operates on the standard MetroCard and Metroticket. The J1, J1A (every day) and J1H (weekends only) also travel between the airport and Adelaide CBD.
Taxis: Taxi fares leaving the airport incur a $2 levy. A taxi from the airport to the Adelaide CBD will cost about $30, but possibly more in peak times with traffic.
Rideshare: In our experience rideshare services are about 20% cheaper than a taxi, but this may change in peak times.